OBox
OBox
The brain of OVER System
OBox is the Gateway Data Logger of the OVER Energy Management and indoor Air Quality System able to connect the network of EDS devices (OMeter, NanOMeter, OSensor, etc.) with the OVER infrastructure cloud platform, through an ETHERNET/LAN port or DATA SIM card.
OBox is a small computer consisting of a hardware part with memory, calculation and communication capacity in real-time and a software part that consists of a set of programs (called bundles) running on the device.
Fieldbus for Building Automation
The OBox device can receive and send messages with all the field devices connected to it that use a BUS technology system based on modules, called BMC (Computerized Monolithic Blocks) which allows the creation of highly efficient and malleable Buildings Automation Systems.
Web service and REST API
The OBox allows you to communicate via the internet by exposing the REST interface through the HTTPS protocol making processes remotely controllable in complete safety.
Internet connectivity and cloud connection
Through a LAN cable or sim card, our OBox easily connects to the internet to offer all our related cloud services (OverBoard).
Data Logger and Automatic Updates
Having internal memory capacity, the OBox can collects and stores the energy and environmental data recorded by the field devices and sends that data to the OverBoard for analysis using cloud tools. It also is capable of automatic updates and therefore is safe from possible external attacks.
Machine Learning - Event-driven programming
Equipped not only with complete software components for advanced calculation functions, our Obox through event-based programming can adapt to every need.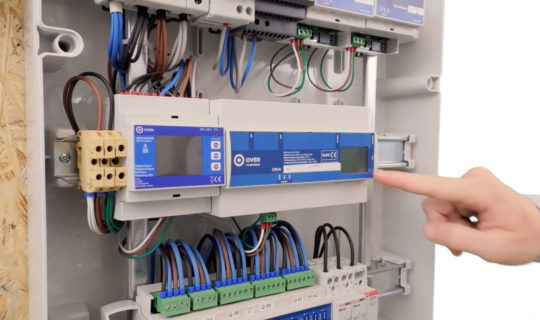 Resources
Get a copy of the manual
Download it below